Fire Alarm Security Cables Dealer, Distributor, Supplier & Stockist
Techno Flex cables are a key dealer of Fire Alarm Security Cables. Products being offered by us are manufactured using finest quality raw materials available with our registered vendors. These cables are designed with precision to be used as security equipments. Every cable offered by us passes through several stringent quality tests conducted by our exert quality analysts. These cables carry a high tensile strength and have no impact of high temperature. '€œTechnoflex carries a full stock of multi-conductor shielded and unshielded fire system service cable, as well as a full stock of multi-paired unshielded fire alarm cable. '€œTechnoflex'€Ě also carries shielded and unshielded heavy duty armored fire system cable


Fire Alarm Cable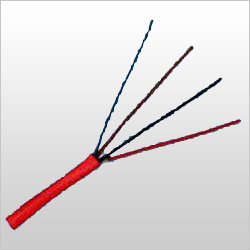 We offer a comprehensive range of special Cable Wires, which are used in high security equipments. Available in different length and sizes, these cable can withstand high temperature.These cables have Fire ratardant properties. Effective in long duration use, these wires withstand a significant degree of stretch and bend.


Multi-conductor fire system cable products consist of many wire conductors within a high temperature electrical wire sheath. Temperature rated up to 105 degree C.
"Technoflex" Wire and Cable has been a staple provider of Fire Alarm-Security (FAS) cables for more than a decade, providing reliable interconnection within fire alarm security systems, smoke and fire detectors, fire alarms and emergency communication systems. Our standard Non-Shielded and Shielded Fire Alarms are the workhorses of the fire alarm cable industry. Need to pull afire alarm cable without a conduit? Use one of our many Armoured Fire Alarm cables.
Technoflex solid / stranded annealed plain electrolytic grade copper conductor as per IS:8130. core insulated with extruded PVC conforming to IS:5831
Two such cores twisted together to form a pair and wrapped with aluminum backed Mylar tape with drain wire of ATC copper, pvc inner sheathed, GI wire / Strip armoured and finally sheathed with special PVC compound
Applications :
Building Automation System Cables Available with us are used in multiplexes, malls and High rise buildings. For this a total complement of cables for control, connectivity, alarm, security, sound, water sprinklers to be used for, CCTV Cameras, Access control, P.A. systems and Building management systems .i.e Total IBMS solutions
| | |
| --- | --- |
| Conductor | Electrolytic Grade Copper Bare / Tinned, Solid / Stranded / Flexible Conductors. |
| Range | 0.5 / 0.75 / 1.0 / 1.5 / 2.5 Sq.mm up to 48 Pair |
| Voltage Grade | 300 / 500 / 600 / 1100 V |
| Primary Insulation | Heat Resistant PVC / PE / HR / FR |
| Screening | Individual and / or Overall with Al-Mylaror Braided with Bare / Tinned Copper |
| Inner Sheath | FRPVC / FRLS PVC / ZHFR / LSZH |
| Armoured | GI Round Wire / Flat Strip |
| Outer Sheath | FRPVC / FRLS PVC / ZHFR / LSZh |