Thermocouple Compensating Cables Dealer, Distributor, Supplier & Stockist
A wide range of efficient Thermocouple Compensating Cables is being offered by us for meeting various industrial requirements. These cables are also known as a perfect alternative to Thermocouple Extension Cables due to their availability at competitive prices. Thermocouple cables being offered by us are manufactured using different alloys of superior quality. These cables are widely brought into application by steel, cement and glass industries. Cables offered by us are manufactured in accordance to standards of IS: 8784, ANSI MC: 96.1to be accepted globally.


Thermocouple Cables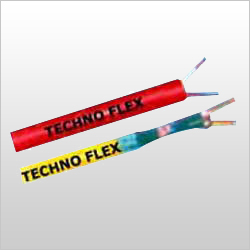 Techno Flex make Compensetting thermocouple cables which is a economical alternative as compare to the Thermocouple Extension cable where single / multipair conductor utilizing dissimilar metallic Conductors than that of the thermocouple but having similar e.m.f temperature characteristics Over a limited range. Our large gamut of Thermocouple Extension Cables is available in varied dimensions to meet the different needs of the clients. Thermocouple Extension Cables are widely used to extend thermocouple circuits from the sensor to reference unit, conforming to IS: 8784, BS: 4937, IEC-584, ANSI: MC: 96.1, DIN, JIS standards.
| | |
| --- | --- |
| Voltage Grade | Upto 1100 V |
| Cable Code | KX, KX(A), TX, JX, EX, SX /RX, BX, NX, UX, WX |
| Construction | Single or Multiple Pairs |
| Range | 16 AWG / 18 AWG / 20 AWG / 20 AWG upto 20 Pair |
| PrimaryInsulation | General purpose PVC / HEAT RESISTANT PVC / LDPE / XLPE / PTFE / Fibre Glass / XLPE |
| Screening | Individual and / or overall with Aluminium Mylar / Copper Tape or with Tinned, Bare, Nickel Copper / Stainless Steel |
| Inner Sheath | PVC/ HR/ FR PVC / FRLS PVC / ZHFR / LSF / PTFE / Fibre Glass / ZHFR. |
| Armouring | GL round Wire / Flat strip |
| Outer sheath | PVC/HR PVC/FR PVC/FRLS / ZHFR / LSF / PTFE / Fibre Glass / ZFHR. |
| Standards | ANSI:MC-96.1, IS-8784, DIN, BS, IEC 584-3 AND IEC-60332 |
| Rip cord | For easy removal of sheath. |